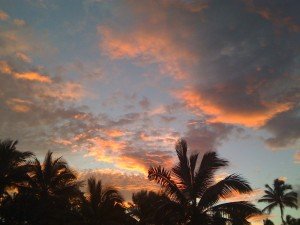 There really was a change.
After all the attention 2012 received it's very interesting to be in 2013. How has it been for you living in the months after the "end of the world"? Seems like such a long time ago doesn't it?
And today is only Valentines Day 2013.
Let's start with some questions.
How many of you were relieved that the world continued to spin and the stars stayed in the heavens, after the end of last year?
How many of you had already dismissed the more radical of the dire predictions and had decided that the shift wouldn't be quite so dramatic?
Now here's another question. How many of you on some level; in your heart of hearts (hidden deep where no one else could see) were still hoping for something…something tangible, something you could point at and say "here! Right here! This is the change that happened. This makes it all valid, something really did happen at the end of 2012".
And how many of you were feeling sad, depressed or at least just a tad disappointed that there wasn't anything tangible (no alien space crafts on the evening news, no overnight restructuring of the economic system, no instant global enlightenment).
Have any of you been out there, walking around especially last month, in the dawn of the new year, feeling just a little lost?
If so, cut yourself some slack.
---
See the thing is something did change. There really was a change.
Where we can get tripped up is that it didn't show up in the way we wanted it to look, or thought it would look, or were afraid it would look.
It's like there was this enormous fight or flight response on a race consciousness level that got activated but nothing presented itself across the board to release it.
Now yes there were absolutely some crises both large and small; as well as grief and loss touching us on some very personal levels.
But that isn't what I am talking about.
It's like this large number of humans all decided to go on a thrill ride together; to somehow all go on the biggest baddest roller coaster ride ever made. We talked about it waited for it, worried about it, imagined it, prepared for it. Ticket in hand we collectively approached the platform and when we got there, we found not an "E ticket" ride, not even a roller coaster at all but just a big library with tables and chairs and books.
Nothing exciting going on, no screaming, no hands held in the air as you start down that steep fast descent, just the hushed quiet of shelves and shelves of books. So we walk in and just kind of stare, wander around in a sort of confused unfocused sense of "huh?" how'd I get here?
But the thing is it's all perceptual (now there's a surprise). We are looking in the "wrong" places or perhaps in the "wrong" ways.
There was and has been and continues to be major energetic changes. Last year we expected it were prepared for it (to some degree) and navigated it to the best of our ability (perhaps we saw it as a means to an end).
What seems to be the case is that now as we continue in the eternal organic process that all these changes seem to follow; we are drifting rather than navigating; and perhaps that is because some part of us thought we'd be done by now, rather than we has just barely opened the door to an entirely new paradigm.
How do you look at all this?
Did you feel like you wanted to just "take your baseball and go home"; decide that evolutionary shift concept is all just BS and go back to business as usual?
Well that won't get you far because we aren't in the same Universe we were last year, and you aren't the same person.
I mean that in the best of ways. This is the Universe where we shifted consciousness to the level where most of the intense changes happened on the astral and energetic levels (anyone had any intense dreams over the last couple months?).
And you are the person who navigated yourself here.
---
Perception colors (some would say creates) everything.
Let's think back to that library. If you look at it from one perspective it's quiet, ordered, organized and perhaps a bit boring. Definitely not a roller coaster!
However if you look at it from a different perspective it alters your perception; inside of every book is an entire world filled with adventure or information, drama, love, magic, enlightenment, even roller coasters.
So there are, in this library, shelves and shelves of stories all existing simultaneously, and able to be experienced simultaneously by as many people as there are books to read.
It's not actually a quiet library.
The trick is to know where to listen. Don't think that just because there aren't sounds flowing through the air hitting your ears, that it is quiet. The sound from all the dialog's and battles and the spaceships would be deafening if you knew where to listen.
This is the year of reinvention. Do you feel you are feeling something new? Sometimes that can come in the guise of feeling lost, sometimes it just feels like you know something's different but you can't put your finger on it.
This is a new year and the new paradigm that is just barely beginning. Maybe it's time to reinvent yourself and your life. Finding that who you "were" is no longer and who you are becoming in not entirely completed; but it is starting to become clearer. And what better day to do it than today; and look it's Valentines day dedicated to Love (that's my story and I am sticking to it!).
Pay attention, notice if how you are relating to people is changing.
You are NOT losing your mind. The energy IS really intense. Be mindful to be kind to yourself and notice if you find a tendency to be self critical…or other critical. This isn't essential but if it is happening just remember THIS TOO SHALL PASS. And of course Mercury the trickster is going retrograde "Real Soon Now" ™ LOL.
Take time for self care and make it a habit to say nice things to yourself daily.
Remind yourself that your perception of a thing really creates a large part of that thing; so pay attention to how you are viewing things.
Take the time to complete relationship issues you swept under the rug over the last year.
Meditate.
learn and practice grounding.
Give yourself (and others) some slack.
This is a tremendous amount of energy directed at us; it is one of the reasons some people are having such a hard time right now; especially if they don't have a way to ground off the excess energy. The good thing about "lotsa energy" is that it can be directed, and it can assist in the manifestation of dreams and visions.
Plus great news (for me) I FINALLY completed one of my downloadable Guided Meditations. People have only been asking me to create these things for 15 years now (ahhh Pisces so very prompt!).
It ends up being perfect for right now (even though it wasn't the one I thought I was going to get out there first; Spirit had other ideas :)). It's called Essential Meditations: Volume One, Grounding for ease and wellbeing. You can find it on the side bar of this blog, and possibly even on this post if I can figure that part out LOL.
I am of the opinion that if you use it regularly it will be really useful for you. It will help you to release all of the stuff that no longer serves you; and leaves you with an actual repeatable energy technique; the one that I always tell everyone is the very foundation of everything else I do or teach.
There really was a change in 2012. Now take that change and run with it, let it make you new again and again.
Aloha and Blessings and Happy Valentines Day!
Erika
music sample for grounding

Loading Music Player…
---

Finally! Get your own private meditation instruction available whenever you want it; for a fraction of the cost of a live in-person session.
Introducing Essential Meditations Volume One. Grounding for ease and wellbeing
A 20 minute instructional and relaxing guided meditation in MP3 format; presented by Erika Ginnis author of Essential Mysteries: A User's Guide for the 21st Century Mystic
"I want to provide relaxing and soothing guided meditation instruction as both a companion to my written work and also as a new avenue of personal experience."